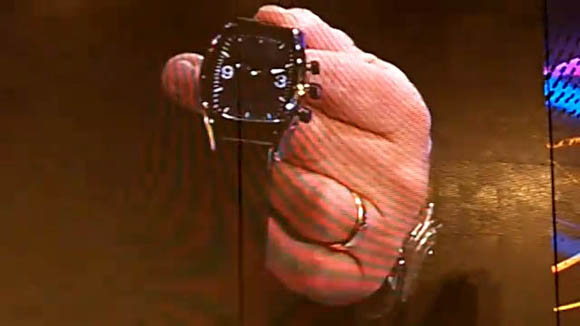 Two weeks ago, we covered an entry regarding of how although with the transition of the digital age, watches are still revered as necessary for some (from ages 25-40) either for practical uses or style. For the younger generations however, watches are on their way out. High school kids don't particularly wear them anymore, as they prefer their cell phones as timepieces. Some consider them as 'superfluous'. What kids seem to care about is how to stay connected to their social network, which leads to our main point of the article of a new hi-tech watch concept. Hewlett-Packard and Fossil are developing a watch intended to be the "aggregation point" or wi-fi hotspot for a variety of gadgets. The MetalWatch concept serves the watch as a central hub for any device to connect to the net, at the same time sync information across gadgets. Meetings, alarms, messages can be conversed 2-ways. So that rather than having a cell phone as a bare essential when you go out, the MetalWatch aims to keep the watch tradition alive.
So what do you guys think of this concept? It would be nice to have a watch in the near future that you could talk into for calls, or have it have Bluetooth capability to wireless headphones so there would be no more wires to worry, or a big lump or square in your pocket when you walk.
For now check out these gorgeous metallic Lip Watches, both analogue and digital, fusing functionality with style. We offer FREE shipping and a 30-Day-Money-Back-Guarantee at NuWatches.